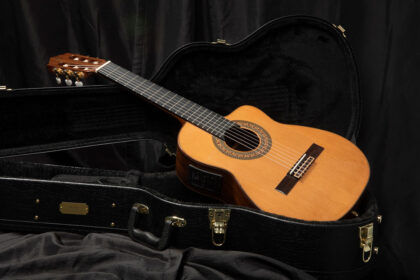 By Alejandro Gonzalez from Encordando.
WHICH ARE THE BEST GUITAR STRINGS?
WHICH STRINGS DO YOU RECOMMEND THE MOST?
WHICH STRINGS LAST THE LONGEST?
These are undoubtedly the most common questions regarding guitar strings. The ideal strings depend on many factors such as:
Your ideal sound
Your anatomy (nails, fingers, and hands)
The filing you use.
Your technique.
Your guitar.
The repertoire you play.
The environment (climate, sound) where you are going to play, etc.
To help you choose your ideal strings we included the factors to consider in two large groups:
Characteristics of the string: tension, materials, specific sound of the brand or model.
External factors: Guitarist, Guitar, Stage, Weather,  Repertoire, etc.
SPECIFIC CHARACTERISTICS OF THE STRINGS
MATERIALS
There are practically 3 types of treble: Nylon, Carbon, and Titanium.
Nylon is the ideal material for all those looking for an intimate, round, sweet, and warm sound, it tends to have more body and allows a greater tonal range to be handled. As the material is less tense, it is softer to the touch, more compliant with the left hand (or right hand for lefties), less abrasive with the nails of the right hand (or left hand for left-handed) and allows better (and easier) vibratos, portamentos, "bendings" and Bartok pizzicato.
Carbon (Fluorocarbon) undoubtedly gives more power and brilliance; they have much greater projection and volume. The sound, especially the harmonics, generates a more homogeneous sound across the fingerboard than Nylon strings, especially on the third string. You can check this by comparing the G of the ( E ) first string at the 3rd fret with the G of the third-string 12th fret. If the strings are made of Nylon there is a lot of difference in the sound, Carbon is a denser material than Nylon, resulting in a thinner gauge, harder, tighter, and less flexible strings. They have greater tuning stability once they "settle" (although they take longer to settle) and tend to be more durable. Titanium is a type of polyamide very similar to nylon, but with a modified formula that gives it special tonal characteristics, enhances the high tones producing a more crystalline and brilliant sound, noticeable especially in the third string, sounding less like plastic than in the most Nylon strings. Overall, it is in the middle of the characteristics between nylon and carbon.
ABOUT THE BASS It is more difficult to define the type of sound you get based solely on the material for two simple reasons: They are made of several different materials and consist of several parts: core, wound, and cover Manufacturing procedures vary between brands and even between models of the same brand, so the resulting sound ends up also varying. Most basses feature a Nylon multifilament core with a mostly silver or copper wound, although there are many other metals that can be used in alloys for the various bass models available today. Regarding the material, the only thing that is 100% clear is that the coating that they add to some models to protect the string from oxidation. Our sincere recommendation would be that you try as many basses as you can until you find one that works best for your guitar and for you.
TENSIONS &  GAUGE  We know that there are too many tension options: extra low, low, normal, high, extra high, medium / high, etc … they are not standardized measures, but rather each makes names them, differently.  For example, a "normal" tension string of brand X may be tighter than some "medium / high" tension rope of brand Y. Tension is directly related to gauge (the diameter of the string in a cross-section). The higher the gauge, invariably the greater the tension required to tune the string to a certain pitch. HIGH TENSION STRINGSThey require more finger pressure when playing which means that both hands can tire you more. They produce greater volume and greater projection but require more energy. They are of higher gauge, which implies more mass and results in a duller sound than strings of lower mass/gauge/tension. There is the possibility of further wear out the nail. In virtuous passages, they give the sensation of greater speed and control in the right hand. They can cause damage to the bridge in delicate instruments.  MEDIUM  OR LOW TENSION Greater risk of causing disruption, lower volume, and projection. It is easier to use techniques such as legato, vibratos, capos, glissando, etc. The "sustain" is greater, especially in piano mezzo-forte passages.Less wear on the nail. Easier and more comfortable to play in general.  Ref- EnvironmentWe refers to the climate (temperature and humidity) and the sound (acoustic) of the place where you are going to play. We recommend that you take into account the environment where you are going to play at,  to choose your strings.
Humidity changes the density of the air. The higher the percentage of air humidity, the more your guitar top will absorb part of that humidity. The top becomes heavier and dense. it moves with greater difficulty, that ends up producing a more muffled sound, without brilliance. We have found that in humid climates high tension strings are more conducive to sound as they transmit more energy to the instrument
Temperature also affects, the warmer the climate, the greater the speed of sound propagation we will have. This means that in warm or temperate climates it will be easier to fill large rooms with low projection strings ( Nylon and/or medium-low tensions) and it will be easier to fill large rooms with carbon strings or high tensions in cold climates. The combination of these three variables: humidity, temperature, and particular acoustics, greatly influence the final sound result, they can determine how much you hear yourself when playing, how well listeners hear you, and even how easily you achieve a good concentration. when interpreting any work. Normally we call the mixture of these three factors, with somewhat subjective terms, such as "dry" scenarios, with a lot of "reverb" or "with very good acoustics", as in some old stone churches or theaters with good acoustic design for the guitar.
CONCLUSION:  Try different brands, materials, and tensions. The options are many, but you must be aware of choosing a suitable string for the circumstances and guitar you are playing in, as this will dramatically change your guitar sound.
If you have any questions, please contact us at  info@GFSflorida.com or visit our site https://guitarsfromspain.com/