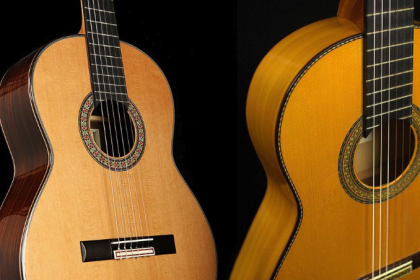 The choice between a classical guitar and a flamenco guitar depends on your musical preferences and playing style.
Both types of guitars use nylon strings, but they have distinct differences in terms of wood tone, sound, construction, and playability.
The Classical Guitar:
Classical guitars are known for their warm and rich tone. They have a well-balanced sound with a strong emphasis on the bass notes, and due to the stiff back and the sides, they have longer sustain.
Classical guitars may have a wider neck and a slightly deeper body than flamenco guitars. This design contributes to their balanced tone, projection, and longer sustain.
Classical guitars are often preferred for fingerstyle, classical music, and genres requiring precise fingerpicking and complex chord work.
The Flamenco Guitar:
Flamenco guitars are designed to produce a bright and percussive sound. They have a more pronounced attack and emphasize the treble frequencies.
The Flamenco guitars usually have a thinner body and a slightly narrower neck than classical guitars. This design allows for quicker and more dynamic playing.
Flamenco guitars are especially suited for Flamenco music, a genre that involves rapid strumming, tapping, and percussive techniques. They are also versatile for other styles like Bossa Nova, Brazilian Jazz, Jazz, folk, and certain types of world music.
Conclusion:
Ultimately, the choice between a classical and a flamenco guitar should be based on the style of music you intend to play, and YOUR playing technique. If you're primarily interested in playing classical compositions or favor a mellow tone, a classical guitar might be the better choice.
On the other hand, if you're drawn to the lively and percussive sounds of flamenco music or enjoy more energetic styles as mentioned above, a flamenco guitar could be the right fit.
It is strongly recommended that you try out both types of guitars in person, if possible, come to our studio in Boca Raton -Florida, and spend a few hours until you find a Guitar that "talks back to you" Then,  you will not be able to put it down.