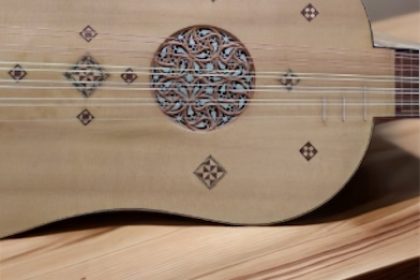 The Vihuela and the Classical Guitar
The vihuela is a plucked string instrument that originated in Spain during the 15th century. It belongs to the lute family of instruments and played an important role in the development of Renaissance music and the Classical Guitar.
The early vihuelas were typically small instruments with a rounded body, similar to a guitar, and featured a flat back and a sound hole. They had six double-string courses, meaning each course consisted of two strings tuned in unison or octaves. The strings were made of gut, and the instrument was played by plucking the strings with the fingers.
Vihuelas were commonly used to accompany vocal music and played as solo instruments. The Spanish aristocracy favored them and was often associated with courtly and secular music. The vihuela's popularity reached its peak during the 16th century, particularly in the region of Spain known as Castile.
The music composed for the vihuela was usually written in tablature notation, a system that indicates which strings to pluck and where to place the fingers on the fingerboard, very similar to today's TABS.  Many renowned composers of the time, such as Luis de Narváez and Alonso Mudarra, wrote music specifically for the vihuela.
Over time, the vihuela underwent changes in its design. The instrument became larger, with a more elongated body and an increased number of courses. By the end of the 16th century, some vihuelas had up to seven or eight courses of strings.
However, as the Baroque period approached, the popularity of the vihuela declined. It was gradually replaced by the guitar, which offered more versatility and a wider range of musical possibilities. By the 17th century, the vihuela had largely fallen out of use.
In modern times, there has been a revival of interest in the vihuela. Today, there are musicians and luthiers dedicated to reconstructing and playing this historical instrument. They study historical treatises and manuscripts to recreate the authentic sound and playing techniques of the vihuela.
The vihuela's historical significance lies in its role as a transitional instrument between the medieval period and the Renaissance. It played a crucial part in shaping the development of music during that era and holds a special place in the history of Spanish music.