Guitar Parts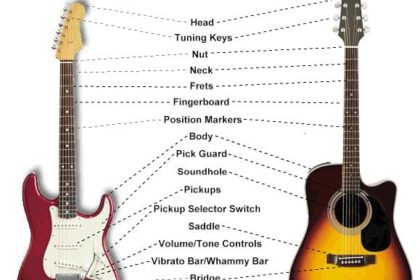 Guitar  parts 
Top: The front of the guitar where the strings are played, usually made of Cedar or Spruce.
Back & Sides : The wooden parts of the box that rest on your arms and body.
Sound-hole: The hole in the middle/front where the sound comes out.
Strings: There are six of them. You pluck them to create sound.
Fingerboard: Where you press your left-hand fingers on. Usually made of Rosewood, Ebony or Maple.
Frets: Thin metal bars diving the fretboard
Neck: The rounded piece of wood supporting the fingerboard.
Bridge: The wooden bar on the guitar top where the strings are attached.
Heel : Where the guitar neck connects to the body.
Nut: Small piece of bone at the beginning of the neck/fretboard
Headstock: The highest part of the guitar which houses the six machine heads used to tune the strings.
Machine heads: Tool to tune your strings , there are six machine heads, one for each string.
About Eduardo M
What you can read next